8th Beijing International Art Biennale
National Art Museum of China, Beijing
August 26th to September 23rd, 2019 / Opening August 30th 2019
The 8th Beijing International Art Biennale (BIAB) is themed "A Colourful World and a Shared Future", and will exhibit artworks from 100 countries to over 200,000 visitors. Held at the National Art Museum of China, this Biennale is established as a bridge for cultural exchanges, and for these international interactions to grow innovation in painting and sculpture; as well as expanding the reputation of Beijing as a global centre for culture.
New Zealand has been selected as one of only six Special Exhibitions at the Biennale. With "Platonic Sphers, Water II", Peter Panyoczki will make part of this Special Exhibition.
Kultuort Höfli 7 Schaffhausen Herblingen
Gruppenausstellung mit Skulpturen und Installationen von zwölf regionalen, nationalen und internationalen Künstlern
6. bis 22. September 2019
Vernissage 6. September 17-23 Uhr | Museumsnacht Schaffhausen-Hegau 14. September 14-24 Uhr | Finissage 22. September ab 14-18 Uhr
Informationen: www.hoefli-7.ch | Museumsnacht Hegau - Schaffhausen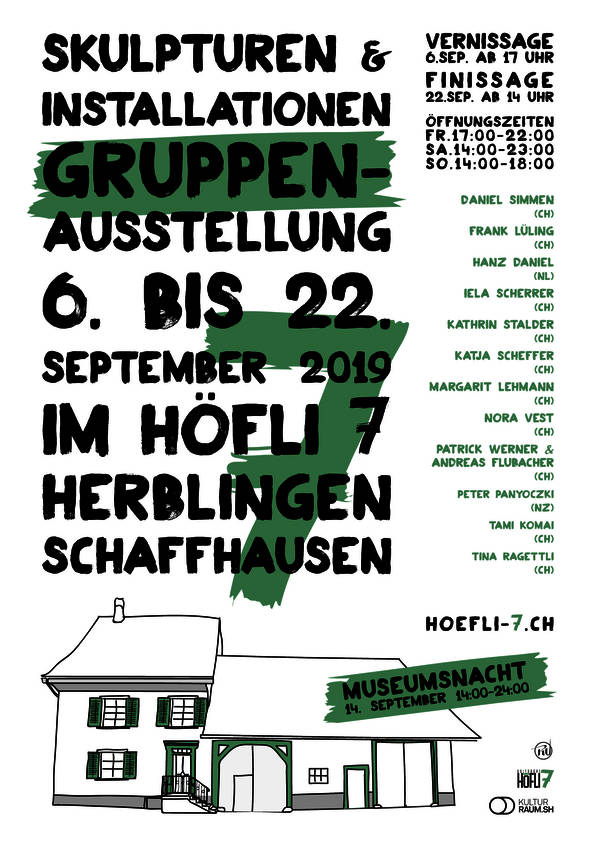 karin weber gallery Hong Kong
PETER PANYOCZKI SWISS / NEW ZEALAND/ HUNGARY
SURFACE AND BENEATH
EXHIBITION DATES 26 April - 3 June 2017
Opening kindly supported by the Consulate General of Switzerland in Hong Kong.
The exhibition is an introduction to the multi-facetted world of this talented artist who is adept at exploring complex themes of place and identity, as well as the origins and expression of life and nature. A range of recent works, including some works on paper previously unseen in Asia, will be the focus of this show.

More: www.karinwebergallery.com
Karin Weber Gallery Contemporary Fine Art
20 Aberdeen Street, Central, Hong Kong
+852 2544 5004 art(at)karinwebergallery.com


CONNY DIETZSCHOLD GALLERY | SYDNEY
PETER PANYOCZKI SWISS / NEW ZEALAND/ HUNGARY
SURFACE AND BENEATH
EXHIBITION DATES 19 April - 31 May 2017
ARTIST TALK Saturday 22 April, 3 - 4 PM
Inaugurated by the Swiss Consul Eros Robbiani from the Consulate General of Switzerland in Sydney.
Presentation of a monograph by the artist with the same title as the show. This monograph presents the artist's work of the past thirteen years, investigating various aspects in a series of very different contributions.
More:
www.connydietzscholdgallery.com
Conny Dietzschold Gallery, 99 Crown Street, East Sydney NSW 2010
Wed - Fri 11-5 pm | Sat 11-4 pm and by appointment
02 9690 0215
Living Geometry | Fractal Worlds
Conny Dietzschold Gallery | Sydney | Cologne | Hong Kong
Harald Pompl, Germany
Angelika Summa, Germany
Peter Panyoczki, New Zealand / Switzerland
Sydney East Art Walk: Saturday, 3 december, 12 - 4 pm
Exhibition Dates: 2 -17 December 2016
Thursday 7 + 14 December, 6 - 8pm - Champagne Night
Saturday 17 December, 2 - 4pm - End of Year Drinks
Art Expo Malaysia
10 – 13 September 2015
Peter Panyoczki was represented by Gallery TAKSU, Singapore.
Sidney Contemporary
Australasia's International Art Fair
Carriageworks, 10 – 13 September 2015
Peter Panyoczki was represented by Bath Street Gallery, Auckland.
"The Invisible Visible" - Karin Weber Gallery Hong Kong
13 May - 27 June, 2014
Karin Weber Gallery celebrates 15 years in Hong Kong with its upcoming exhibition series, the first of which is "The Invisible Visible" – showcasing works by renowned artists Peter Panyoczki and Udo Nöger. The exhibition is set to be a key satellite exhibition during the city's annual May celebration of art.
G/F, 20 Aberdeen Street Central, Hong Kong
Tuesday - Saturday : 11 a.m. - 7 p.m.
Sunday by appointment
Tel:(852) 2544 5004
"Particle Meditations Part III" - Galerie am Schillerplatz Wien
"Particle Meditations Part II" - Global Art Source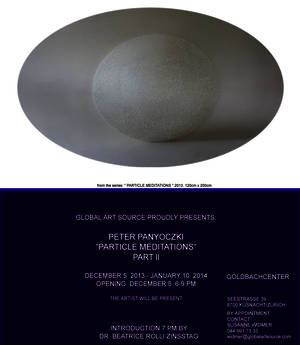 5. December 2013 - 10. January 2014
Opening 5. December 6 - 9pm
Introduction 7pm by Dr. Beatrice Rolli-Zinsstag
Seestrasse 39
8700 Küsnacht / Zürich
Switzerland
By appointment
Contact:
Susanne Widmer
Tel. 044 991 73 33
widmer(at)globalartsource.com
"Particle Meditations" - Bath Street Gallery 2013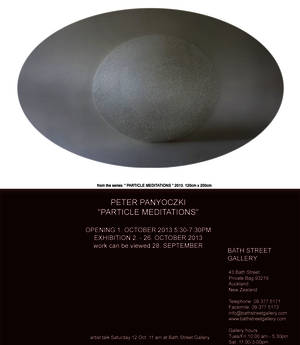 2. October - 26. October 2013
Opening 1. October 5:30pm - 7:30pm
Artist Talk 12. October 11am
43 Bath Street
Auckland
New Zealand
Gallery hours
Tues / Fri 10.00am - 5.30pm
Sat 11.30am - 3.00pm